Dr. Avik Dandapat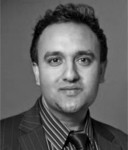 Dr Avik Dandapat is principal implant dentist at the Dental Implant Centre, having placed over 5000 implants. He also lectures in Implant Dentistry nationally in the UK and abroad and is a registered ADI (Association of Dental Implantology) dental Implant mentor.
Avik qualified from Birmingham University where he gained his BDS qualification in 2001. He went on to working in private practice in Royal Leamington Spa and attained the MFGDP (UK) qualification by exam 2 years after qualifying (at the earliest possible time allowed).
Dr Avik Dandapat also did sabbatical work in Calcutta,India- where the epidemic of Oral Cancer exists – working closely with Maxillo-Facial surgeons during this period he gained invaluable experience in the surgical treatment and reconstruction of patients diagnosed with Oral Squamous cell carcinoma.This surgical experience allowed Avik to gain deep insight to surgery and the benefits of the use of titanium dental implants to provide these debilitated patients a reasonable quality of life after radical surgery often removing large areas of the jaws and teeth.
He then embarked on further post graduate training (over a 3 year period) at The Royal College of Surgeons of England, London (RCS) Eng relating to Dental Implants. He was awarded The Diploma in Dental Implantology by exam in 2007 and also gained the Advanced certification in bone grafting. Also Dr Avik Dandapat was the youngest Dentist in the UK to hold this qualification at point of examination. And is currently completing his thesis toward a Masters Degree in Dental Implantology at Leeds University, UK.