Dr. Peter JM Fairbairn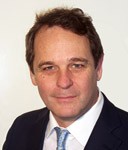 Peter graduated from the University of the Witwatersrand in 1981 and after a few years in Hospital positions and the army came to the UK to work in the NHS.
His interest with dental Implantology started in the late 80s and after courses with Dr Barry Edwards ( his mentor ) began placing and restoring in 1991.
His main interest has been the use and development of Synthetic or Alloplast graft materials on bone regeneration which he has solely been using since 2004 . Peter is now a well known world authority on their use and has developed both the materials and the surgical techniques for optimal results.
Having spoken in over 30 countries worldwide and written numerous journal articles as well as chapters in 2 published (Quintessence) books he has become synonymous with the use of these materials.
He is an active member of the ADI and BACD and on the editorial board of Aesthetic Dentistry Today.
Peter is the Principal Dental Surgeon of the referral based Scarsdale Dental Aesthetic and Implant Clinic in Kensington , West London .